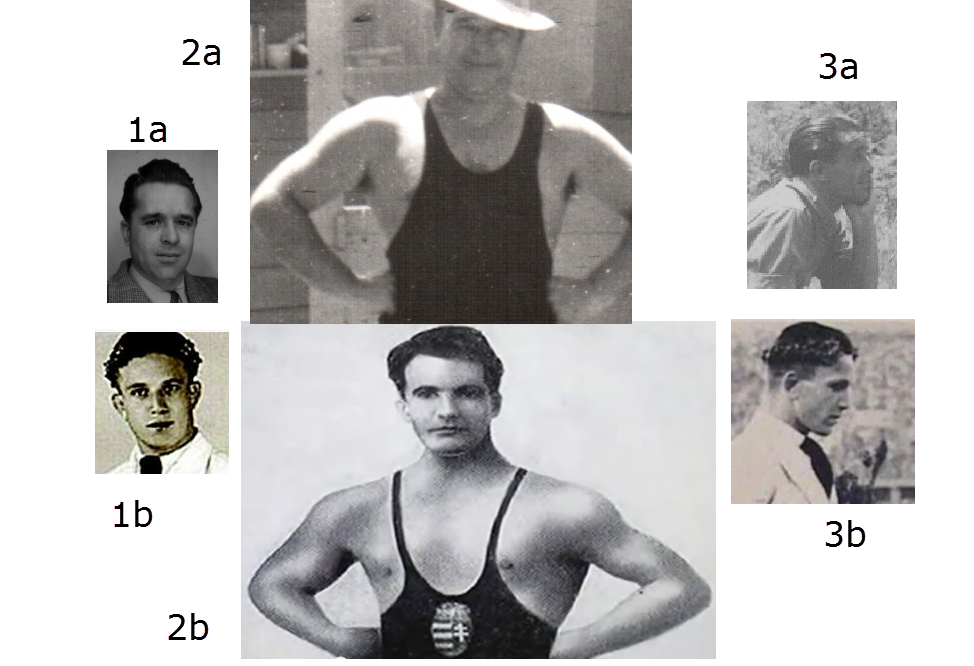 Gustav Urbanscik
The purpose of this site is to help gather reference sources and reminiscences of 1930s Hungarian Wrestler Gustav Urbancsik.
This site is currently under the direction of the daughter of Gustav, Adalbertina Isabella. If you would like to contribute reminiscences, sources, references or to discuss what Gustav meant to those who knew him or knew of him, then please contact Adalbertina Isabella.
From reminiscences of Adalbertina Isabella, Gustav was well known in the Hungarian community in Australia. Was it as a wrestler and Olympic gold medallist, for numerous world war II honours, for playing a major part in food relief operations in Budapest after the war, for his inventions, for something else or for a combination of these?
Apart from this, we would like to post images of Gustav as a wrestler and contemporary newspaper accounts, if archives are available.
1936 Olympics wrestling gold medallist for Hungary
Gustav won a gold medal in Greco-Roman wrestling in the bantamweight class in the 1936 summer Olympics, for Hungary, with alias name Márton Lőrincz. This is the name listed in the non IOC Olympic database.
An issue that needs to be resolved is the alias name used for Gustav at the 1936 Olympics, Márton Lőrincz. Gustav was personally devastated by the use of an alias name for him at the 1936 Olympics. Hungarian officials changed his name for Olympic participation for ethnic reasons. The name Urbancsik is a Ukrainian ethnic name.
In addition basic factual birth and date information provided by the database is incorrect. It is believed the database information can be easily shown to be incorrect through examination of official BMD (Births, Marriage, Deaths) records.
Comparison Imagery
The composite image at the top consists of six labelled images for discussion. The three above are of Gustav Urbancsik. The three below are publicly identified as those of Márton Lőrincz.
The closest in age are 3a (Gustav) and 3b (Márton).
Image 1b (Márton) is an odd image by the standards of the time given its poor quality and purpose. It is from an official portraiture shot that is still used and is by far the most dominant image of Márton Lőrincz. Why is official portraiture of such poor quality and why does the likeness look so different from accepted image in 2b (Márton)? In 1b (Márton) the left side of face is unnaturally caved in and the hair is odd and unnatural looking. The continuous curved thick black line above the left side of shirt collar, that continues along outline of left ear, is just plain suspicious.
It is difficult to accept 1b (Márton) and 2b (Márton) are of the same person or that the 1b (Márton) imagery has not been sloppily adjusted in a hurry. It is easier to accept 2b (Márton) and 3b (Márton) are of the same person and it is easier to accept 3b (Márton) and 3a (Gustav) are the same person. In image 3b Márton has a laurel wreath on his head and the background is a large stadium crowd.
Comparing 1a (Gustav) and 2a (Gustav) with 2b (Márton) is not convincing, unless you take into account that what appears to be the outline of right cheek in 2b (Márton) is actually Márton's neck. You can see just how thick Gustav's neck is with musculature in 2a (Gustav).
Birth and death
Gustav was born in 1915 in Budapest, Hungary. He died in Sydney Australia in 1971.
Incorrect information in Wikipedia
Wikipedia has data scrapped the incorrect details from the non IOC Olympic database as can be see in the Márton Lőrincz wikipedia entry
Personal Life
Gustav was the youngest of 12 children. A noted family personal fact is that at 5'6" he was 6" shorter than other males in his family and had large thighs.
His first wife was killed in an air raid in World War II. We have no other information.
He married Ilona Schaab (born 1920 in Magyerboly, Hungary) in Paris, France.
They had a daughter Adalbertina Isabella, born in Paris and named after her paternal grandmother Adalbertina Isabella Danko.
They had a son John, born in Australia.
In Australia Gustav and his family shortened their family name from Urbancsik to Urban. Gustav, Ilona and Adalbertina Isabella became naturalised Australian citizens at a ceremony in Town Hall, Sydney. The shortened family name Urban was accepted for citizenship.
Personal reminiscences by Adalbertina Isabella
Gustav was a wonderful father with a warm and positive nature who made all family members feel loved and valued. He never expressed political views, was strait-laced and had fond memories of army life camaraderie. It was the only aspect of army life he talked about. Yet despite this and even with his tremendous mechanical aptitude he had a dreamy visionary and occasionally impractical side to him which was very inspiring and wonderful to listen to.
He continued to wear in Sydney his French beret. He became known for this. He called it his thinking cap but it was useful to keep his hair away from his face when working. For example on one occasion, with his hat on, he informed Adalbertina Isabella he was thinking about a machine to lay down railway tracks quickly as opposed to the then current cumbersome manual track laying methods.
Pre war
Prior to conscription in World War II, Gustav owned an industrial knitting mill repair business which had contracts with five large mills.
Military duties and World War II honours
Gustav's military duties included motorcycle courier, teaching new recruits to drive heavy vehicles and sergeant commander of a Panzer tank with a crew of three. Hungary manufactured their own Panzer tanks and the three crew tank he commanded was a light, highly manoeuvrable model.
Gustav won numerous military honours, including an Iron Cross for shooting down an aeroplane. We do not yet have the official account of this action.
From a personal account given to Adalbertina Isabella, a number of aeroplanes strafed a stationary army column. Gustav was in charge of a tank. Upon attack he ran to a mounted gun unit under transport and successfully shot down an attacking aircraft. It is not known if the gun was mounted on a truck or on a tank. 8 mm calibre machine guns were typically fitted on all Hungarian tank models.
Light anti aircraft guns of the time for mobile land units were typically water cooled 8 mm calibre mounted machine guns capable of firing at a rate of over 1000 rounds per minute. Although capable of tracking an evasive low flying aircraft, these guns had a notoriously low success rate, typically requiring more than a 1000 rounds to bring down an aircraft. Of course a magazines would not hold 1000 rounds and it is likely standard practice was to only fire a few rounds at a time to avoid the gun jamming due to issues with heat.
There is a further surprising personal twist to Gustav's experience with machine guns.
Russian prisoner of war and escape
Gustav took part in the Eastern Front advance and was captured by the Russians at Stalingrad.
After five years Gustav escaped and with help made it back to Budapest. He weighed 48 kg.
Post war food relief in Budapest
The economy of Hungary was shattered post World War II and was under central control. Without the approval of central planning, Gustav started a transport company with a fleet of three trucks built from salvaged parts. He used food as currency and started bringing food from an infrastructure shattered plentiful rural Hungary into starving Budapest. The authorities nationalised his successful trucking business, gave him a job as a driver and placed the business under the management of his brother.
Refugee in Paris
Gustav learnt he was on two wanted lists by the Russians (one for technical knowledge reasons and another for military reasons). The Russians were the occupying force in Hungary and according to eye witness accounts (such as by Ilona), the Russians were literally grabbing people on the street and dragging them to vehicles, never to be heard of again. Gustav left Hungary as a refugee for Paris.
Inventions
The Hungarian exile community in Paris helped Gustav obtain patents in France for his fertile inventive nature: Automatic ignition burner gas-powered device and Automatic ignition device attached to gas cookers. The second invention uses a gas cooker control to not only turn gas on or off but also to ignite the gas.
Despite efforts by the Hungarian exile community in Paris for Gustav to remain, Gustav emigrated to Australia. Gustav partly funded his move to Australia with his new young family by selling for a small amount a nail gun related invention to an American. Contrary to the popular myth that nail guns were invented by construction workers in the 1950s (although was can assume they complained loudly and rightly about the inconvenience of early versions), pneumatic nailer patents have been issued since the 1930s. Given Gustav's wide industry experience, we can assume he was aware of early efforts and sold an improvement, perhaps a more portable 'gun like' version or a version powered differently.
There is personal side to these inventions. A nail gun is essentially a miniature machine gun that fires nails instead of bullets (powered electrically, pneumatically, by gas combustion or by exploding charge). Gustav was motivated to invent his gas devices after the death of a Hungarian friend due to a gas leak.
Life in Australia
As typical with many immigrants of the time, Gustav had many jobs in Australia, such as stonemasonery and industrial machinery repair. For his first two years in Australia Gustav was contracted to work as directed by the Australian Government. He was sent to Robinvale along the Murray River to clear native forest for orchard plantation. Gustav was averse to interfering with healthy ecosystems. While such a concern was not part of the zeitgeist of the times, it was certainly well established. On the way the diesel bus broke down. The driver relectantly gave into demands of his migrant passengers to allow Gustav to fix the bus, which he did.
Adalbertina Isabella states Gustav was a good sketch artist and had custom tools manufactured for himself for servicing industrial knitting machines in Australia. Industrial knitting machines of the time were surprisingly delicate and had to be finely tuned to achieve optimal production. The machines he serviced would typically operate with far less trouble for the operators, enabling them to achieve up to twice the normal production rate and it was reported fights would break out to use the machinery he serviced. Despite efforts by management to retain him permanently, he declined.
Personal photographs
Photographs of Gustav Urbancsik. Copyright is owned by Adalbertina Isabella. Please ask if you wish to use outside this site.
The photographs taken in Austria were taken while travelling as a refugee to Paris.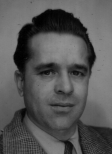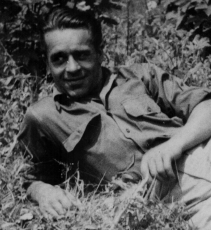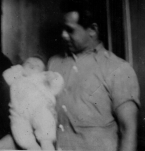 Contact
You can contact Adalbertina Isabella through Gustav Urbancsik site contact form.
Links and References